Located at the centre of Mainland Southeast Asia, Thailand is one of the world's most unique places to spend your vacation because of the beauty of its beaches and islands. Thailand offers travellers a wide variety of experiences, things to do and places to see. You can have a memorable holiday enjoying Thailand's culture, religion, food and nature, and filled with water, sports, adventure or relaxing activities. With a huge number of healing and detox centres, Thailand is also known as a health and wellness destination. There is something for everyone to do in Thailand!
Getting to Thailand.
Suvarnabhumi International Airport in Bangkok is Thailand's main air gateway into the country. Serving more than 50 international airlines, it is Thailand's busiest international airport. Apart from this, there are many other international, regional and privately owned airports as well as heliports.

Travel requirements for Thailand.
Visitors to Thailand are required to obtain a tourist visa from the Thai Embassy or Consulate in your country. One can also check for eligibility to enter Thailand under Elite Visa on arrival and the Visa Exemption rule. The tourist visa will be stamped on your passport upon arrival at the airport in Thailand. Certain tourist visas can also be extended if necessary. Always ensure you have the right information on the validity of the Tourist Visa and the Permit to Stay, which are two different things.

Thailand entry requirements.
From 1 July, 2022, revised entry measures for foreign nationals into Thailand have been in place. Thailand has removed the requirement for Thailand Pass registration for all travellers. Travellers are only required to show print or digital format proof of either a certificate of vaccination or a negative RT-PCR or professional ATK COIVD-19 test result within 72 hours of travel. Random checks will be made on arrivals at Thailand's international airports or land border checkpoints.
As in most countries now open to tourism, both vaccinated and unvaccinated/not fully vaccinated travellers are advised to strictly follow health and safety standards.

Best places to visit and things to do in Thailand.
Bangkok, Central Thailand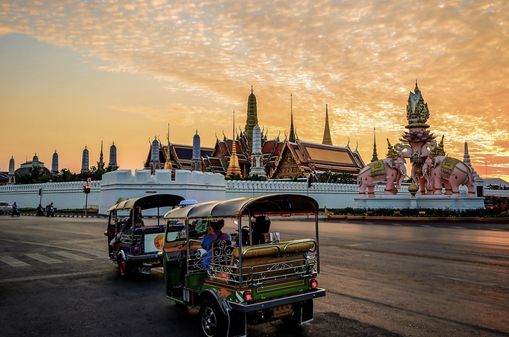 Bangkok is the capital and most populous city of Thailand. Bangkok is easily one of the world's top tourist destinations due to its historical and cultural tourist attractions. A shopper's delight, one can never get enough of Bangkok with its shopping centres and department stores. Bangkok city is also famous for its dining experiences and dynamic nightlife. Besides the museums and cultural centres in Bangkok, there are numerous venues that regularly feature a variety of performances throughout the city. Tourists also enjoy rides in the motorized rickshaws called 'tuk-tuk'.
Best places to visit in Bangkok, Central Thailand.
Grand Palace, a complex of palace buildings.
Wat Arun, one of Thailand's best known Buddhist temple with its distinctive prang (spire).
Wat Pho, a Buddhist temple housing the largest collection of Buddha images in Thailand, including a 46 metres long reclining Buddha.

Best activities in Bangkok, Central Thailand.
Experience the nightlife scenes of Khaosan Road and Patpong.
Float a ritual vessel or lamp during the Thai festival Loy Krathong.
Venture into Bangkok's Chinatown, a bustling shopping district and a popular street food destination.

Pai, Northern Thailand.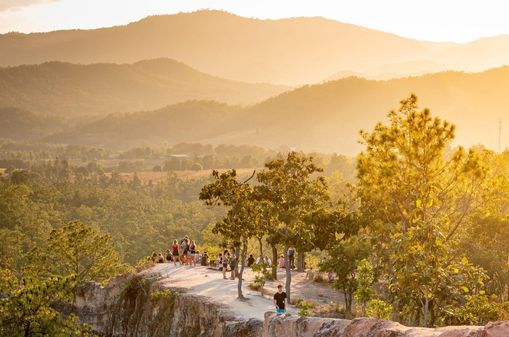 The small town of Pai, once a quiet market village inhabited by Shan people, now thrives on tourism. Pai is almost a hippie destination, well known among backpackers and alternative travellers for its relaxed atmosphere. The town is full of cheap guesthouses, souvenir shops, and restaurants. Some tourists use the town of Pai as a base for trekking and visiting hill tribes as it lies at the foot of the mountains.
Best places to visit in Pai, Northern Thailand.
Take a meditative 353 stairs walk up the mountainside leading to the majestic White Buddha.
Enjoy brilliant views and fun hikes at Pai Canyon.
Cool off in the shade of the cliffs and the refreshing water at the Pam Bok Waterfall.

Best activities in Pai, Northern Thailand.
Go motorbike riding along the Mae Hong Son Loop, one of the best circuits in Southeast Asia.
Soak in the Tha Pai Hot Springs, a cold-water stream flowing over boiling-hot rocks, creating a soothing, heated pool surrounded by lush scenery.
Wander through Pai's Walking Street Night Market with street food vendors and market stalls.

Pattaya, Eastern Thailand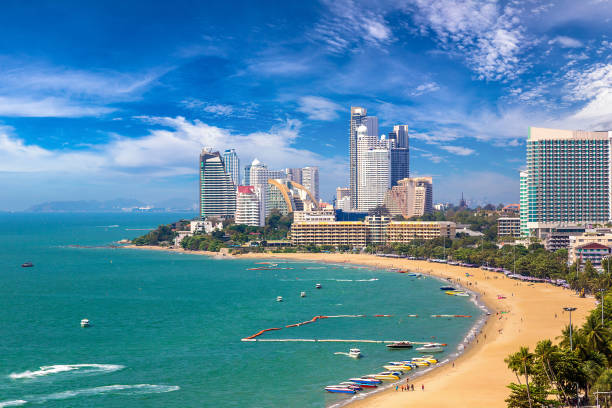 After Bangkok, Pattaya is the second most visited city in Thailand. The Pattaya Bay area is one of Asia's largest beach resorts. Tourists can enjoy beach sunbathing and spectacular views. Water sports activities are in plenty at Pattaya and one can choose between sailing, yacht racing, water skiing, windsurfing and many more. Several world-class golf courses are located in Pattaya. And it is also home to one of Thailand's biggest Muay Thai training centre.
Best places to visit in Pattaya, Eastern Thailand.
Visit the Wat Phra Yai or Big Buddha Temple, which is home to a giant 12 metres tall gold-painted Buddha statue.
Go to the Walking Street with its night life, seafood restaurants, live music venues and much more.
Have fun at Cartoon Network Amazone Waterpark, the world's first cartoon network-themed waterpark.

Best activities in Pattaya, Eastern Thailand.
At Pratumnak Hill, try your hand at the fitness and beach leisure activities. Visit the flamboyant kathoey cabaret shows where transsexual and transgender entertainers perform to packed houses.
Experience Thai culture on a riverside ride at the Pattaya Floating Market, showcasing the beautiful ancient Thai riverside village lifestyle.

Sangkhlaburi, Western Thailand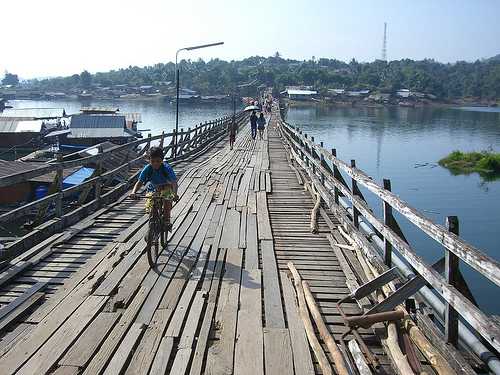 The secluded town of Sangkhlaburi tucked away in between the forests and mountains of Tenasserim Hills, is stunning and culturally diverse. Sangkhlaburi is perfect for tourists who just want to hang out, kick back, and relax for a couple of days. One of the best known tourist spots is the Mon Bridge, the longest handmade bridge of its kind in Thailand. It is quite a photogenic wooden bridge that stretches over the area's enormous man-made lake.
Best places to visit in Sangkhlaburi, Western Thailand.
When the water level of the lake is low, hire a boat to see the three Sunken Temples.
Visit the Buddhist temple Wat Wang Wiwekaram featuring a multi-tiered roof of the main temple.
Camp at the stunning Pom Pee Viewpoint in Khao Laem National Park and get an unobstructed view of the Vajiralongkorn Dam.

Best activities in Sangkhlaburi, Western Thailand.
Participate or observe the early morning alms giving ceremony, from the main temple through the village, where people line up as the monks walk by accepting the alms.
Walk over the Mon bridge to explore Mon Village, where you can even spend a night or two on the raft houses.
Within Khao Laem National Park, relax at the Kering Kawia Waterfall a beautiful collection of small waterfalls.

Phuket, Southern Thailand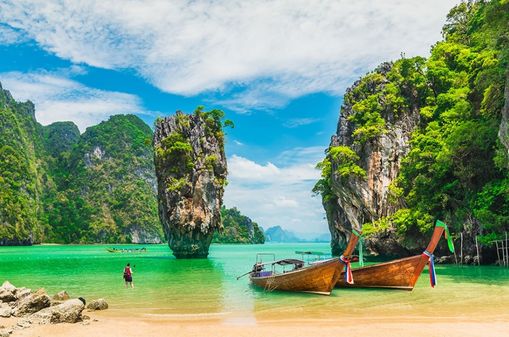 Phuket is one of the oldest cities in Thailand, as well as the country's largest island. Known as the pearl of the Andaman Sea, Phuket has many beautiful beaches, off the coast attractions and in land attractions. Visitors to Phuket can discover the island's getaways, admire unforgettable views from its stunning bays, or explore its beautiful national parks. Phuket offers a broad array of cultural and entertainment attractions such as serene temples and engaging museums. There's no shortage of adventure activities at Phuket, and one can choose from hikes into the island's mountainous interior, and water-based activities such as snorkelling and deep-sea diving.
Best places to visit in Phuket, Southern Thailand.
Wat Phra Phuttha Ming Mongkhon, 'The Phuket Big Buddha' or 'The Great Buddha of Phuket', is a 45m tall statue made of concrete and covered with Burmese white marble and offers the best 360° views of the island.
Old Phuket Town showcasing many fine mansions and shops of the 19th century with Sino-Portuguese and Mediterranean character that are still well preserved.
Wat Chalong, Phuket's largest and most visited temple, which shelters a splinter of bone from Buddha.

Best activities in Phuket, Southern Thailand.
The Upside Down House located on Bypass Road is a pink house that presents a fun attraction for families and kids as it actually stands upside down!
Dino Park Mini Golf, located on an 18-hole mini-golf course, featuring dinosaurs and an erupting volcano, and uses light and sound techniques to provide great fun for families.
Book a tour at any of the zipline adventure parks where one can climb or walk through rainforest and adventure lovers can swing, fly or soar.

Nakhon Ratchasima / Khorat , North Eastern Thailand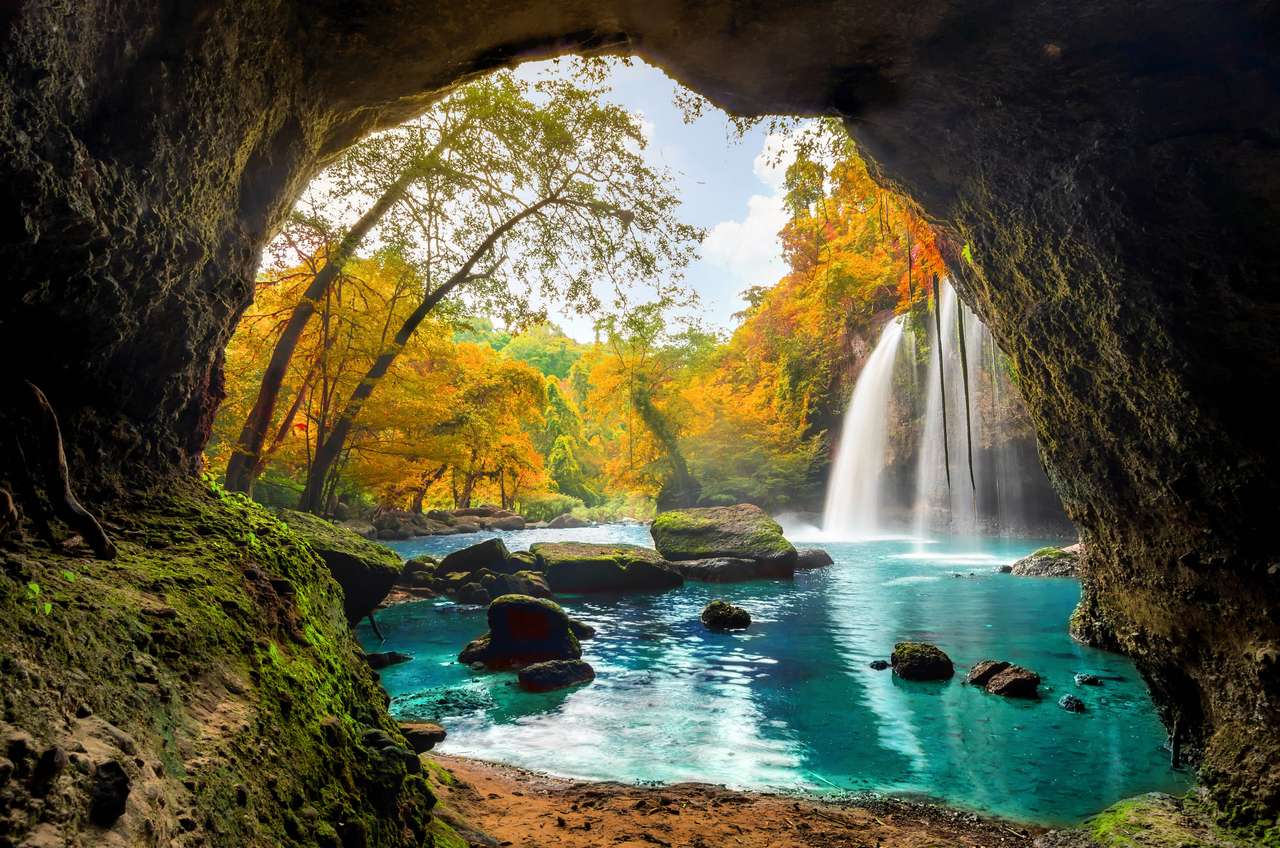 Some of the most beautiful highlands and gorgeous plateaus can be found in Nakhon Ratchasima province of North Eastern Thailand. It has splendid natural scenery and awesome historical sites. Thailand's oldest and most visited nature reserve is Khao Yai National Park. Nakhon Ratchasima city is the largest city and is also more popularly known as Khorat which is its older name. Nakhon Ratchasima is known for its local ceramic handicrafts and silk weaving industry. Khorat is also rich in culture and proudly boasts its own folk song called 'Pleng Korat.' Khorat is Northeastern Thailand's main transportation hub and economic center.
Best places to visit in Nakhon Ratchasima , North Eastern Thailand.
The town square, where a statue of national heroine Thao Suranari stands in its centre.
Prasat Hin Phanomwan monastery is filled with many Buddha images, most of which are covered with patches of gold leaf.
Korat Zoo Lagoon and Water Park, a unique and the biggest park of its kind in the area.

Best activities in Nakhon Ratchasima , North Eastern Thailand.
Enjoy jungle trekking at Khao Yai National Park, featuring the 20m high Haew Suwat waterfall and 150m Haew Narok falls.
Dino Park Mini Golf, located on an 18-hole mini-golf course, featuring dinosaurs and an erupting volcano, and uses light and sound techniques to provide great fun for families.
The Lam Takhong River, a soothing river where novice rafters as well as families can try simple rafting adventure.
Ban Koh night market, the best spot to enjoy the city's nightlife while relishing a host of culinary delights.

Book your trip to Thailand with Travco Holidays Pvt Ltd.
Dreaming of a holiday in Thailand? Travco Holidays Pvt Ltd can make it a reality with the best package deals to Thailand. Let our experienced travel consultants help you plan the trip so you and your family can discover the best that Thailand has to offer. Let your Thai adventures begin. Book safe travels now with Travco Holidays Pvt Ltd. Contact us today here or call us on +91-9860090341 to know more about our Thailand holiday packages. Besides exciting Holiday Packages, we provide Indian Passport Services, Portuguese Passport Services. We ensure quick processing services, hassle-free passport services, visa assistance and any other travel requirements.