Have you ever considered that some famous bridges could be world record breaking bridges?  Were they meant to be more than just a practical construction? Although they may have been originally built to help us get around with greater ease, some of them are so spectacular that they are worth a visit. Check out our list of some of these famous world record breaking bridges around the world.
Hong Kong-Zhuhai-Macau bridge, Hong Kong, China, Macau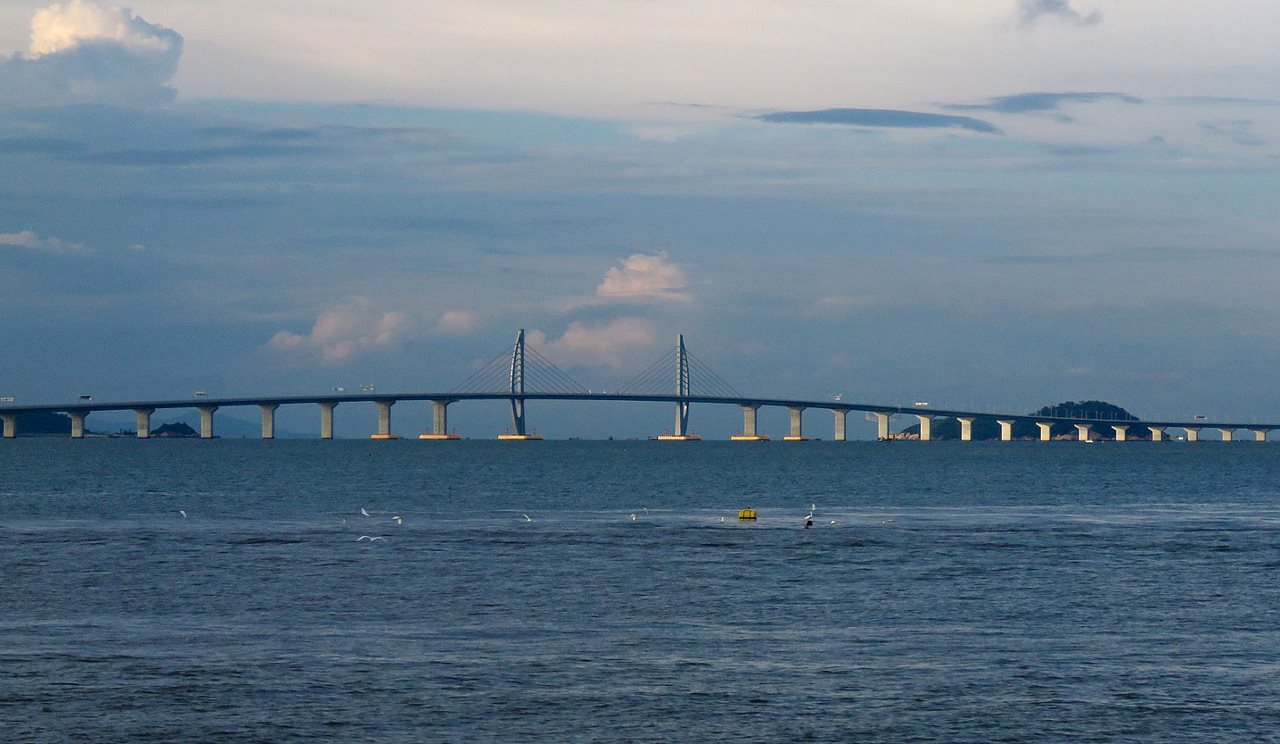 Hong Kong-Zhuhai-Macau bridge. (Pic Credits: bn.wikipedia.org)
Hong Kong-Zhuhai-Macau bridge is a 55-kilometre bridge opened in October 2018 and is a world record breaking bridge for being the world's longest sea-crossing bridge. It is a bridge-tunnel system consisting of a series of three cable-stayed bridges, viaducts, undersea tunnels and four artificial islands. It spans the Lingding and Jiuzhou channels and connects three major cities on the Pearl River Delta – Hong Kong, Macau and Zhuhai. The bridge is designed to last for 120 years. However, currently, only 10,000 permits are available for private vehicles from Hong Kong to drive across the bridge and only 300 for Macau. The Hong Kong-Zhuhai-Macau bridge consists of three main sections: The Main Bridge is the largest part of the project and is a bridge-cum-tunnel system. It includes a 22.9-kilometre viaduct which crosses the Pearl River estuary with three cable-stayed bridges allowing shipping traffic to pass underneath and a 6.7-kilometre undersea tunnel that runs between two artificial islands. The Hong Kong Link Road connects the Main Bridge to an artificial island housing the Hong Kong Boundary Crossing Facilities. This section includes a 9.4-kilometre viaduct, a 1-kilometre Scenic Hill Tunnel and a 1.6-kilometre road along the east coast of the Hong Kong International Airport. The Zhuhai Link Road starts from an artificial island housing the Boundary Crossing Facilities for both mainland China and Macau, passes through the developed area of Gongbei via a tunnel towards Zhuhai, and connects to three major expressways.
Akashi Bridge, Japan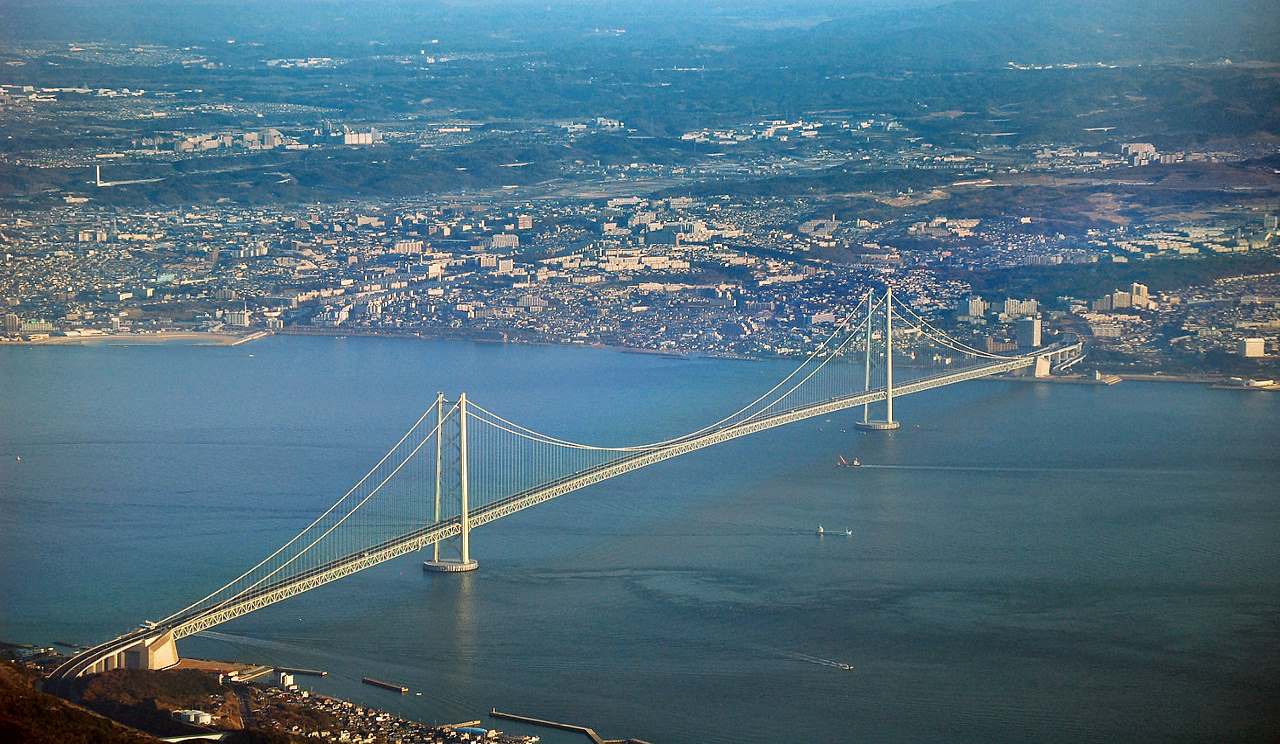 The Akashi Kaikyō Bridge or Pearl Bridge as it is also called crosses the busy Akashi Strait of Japan and is located between Osaka Bay and Seto Inland Sea. It holds the world record for the longest central span suspension bridge at 1,991 metres. The bridge has six lanes of roadway and four emergency lanes. The Bridge stands in a seismically unstable region of Japan that also experiences some of the Earth's most severe storms. The bridge's design system allows the structure to withstand winds of 286 kilometres per hour, earthquakes measuring up to magnitude 8.5, and harsh sea currents. This world record breaking bridge can expand and contract up to 2 meters over the course of a day due to heat. While still under construction the two towers were originally 1,990 meters apart. But the Kōbe earthquake of January 17, 1995, moved them so much that the span had to be increased by 1 metre. Sets of three high-intensity lamps are mounted on the main cables. The Red-Green-Blue colour model and computer technology used allows for a variety of combinations to be displayed. On occasions such as national/regional holidays, memorial days or festivities, twenty-eight patterns are used. The Akashi Kaikyō bridge was opened for traffic on April 5, 1998, after a 10-year construction period. The ceremony was officiated by the Crown Prince Naruhito and his wife Crown Princess Masako of Japan.
Arkadiko Bridge, Turkey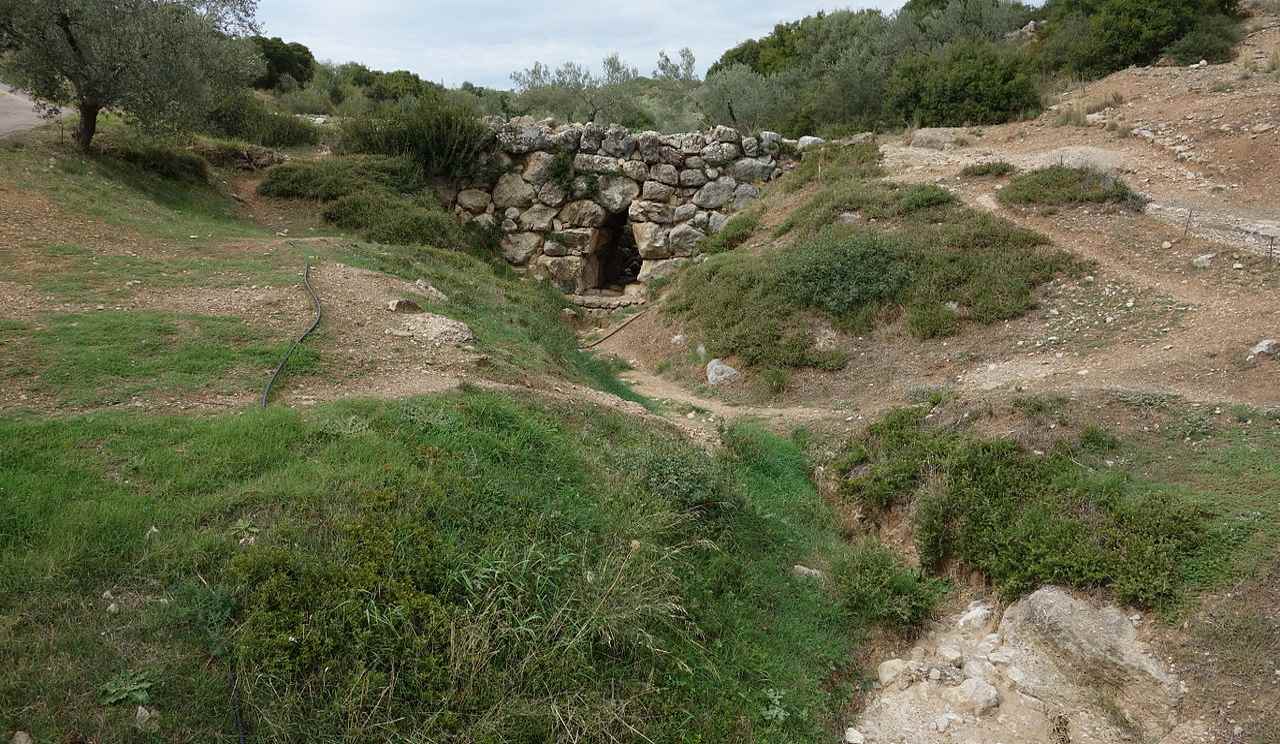 Arkadiko Bridge, Turkey.    (Pic Credits: commons.wikimedia.org)
The Arkadiko Bridge built between 1300 and 1190 BC is the oldest bridge in the world. Also known as Kazarma Bridge, this world record breaking bridge is a slab-stone single-arch bridge over the river Meles in Izmir-Turkey. It was built specifically for chariots as part of a larger military road system. The structure still has the curbs intended to guide the horse-drawn vehicles. This relic of ancient Greece, however, is still a stable and sturdy structure and is still safe for pedestrian use. The Arkadiko Bridge is just 22 meters long, 5.5 meters wide, and 4 meters feet tall. Mycenaean style of Cyclopean masonry consisting of limestone boulders, smaller stones, and little pieces of tile assembled tightly together without mortar was used to build the bridge.
Danyang-Kunshan Grand Bridge, China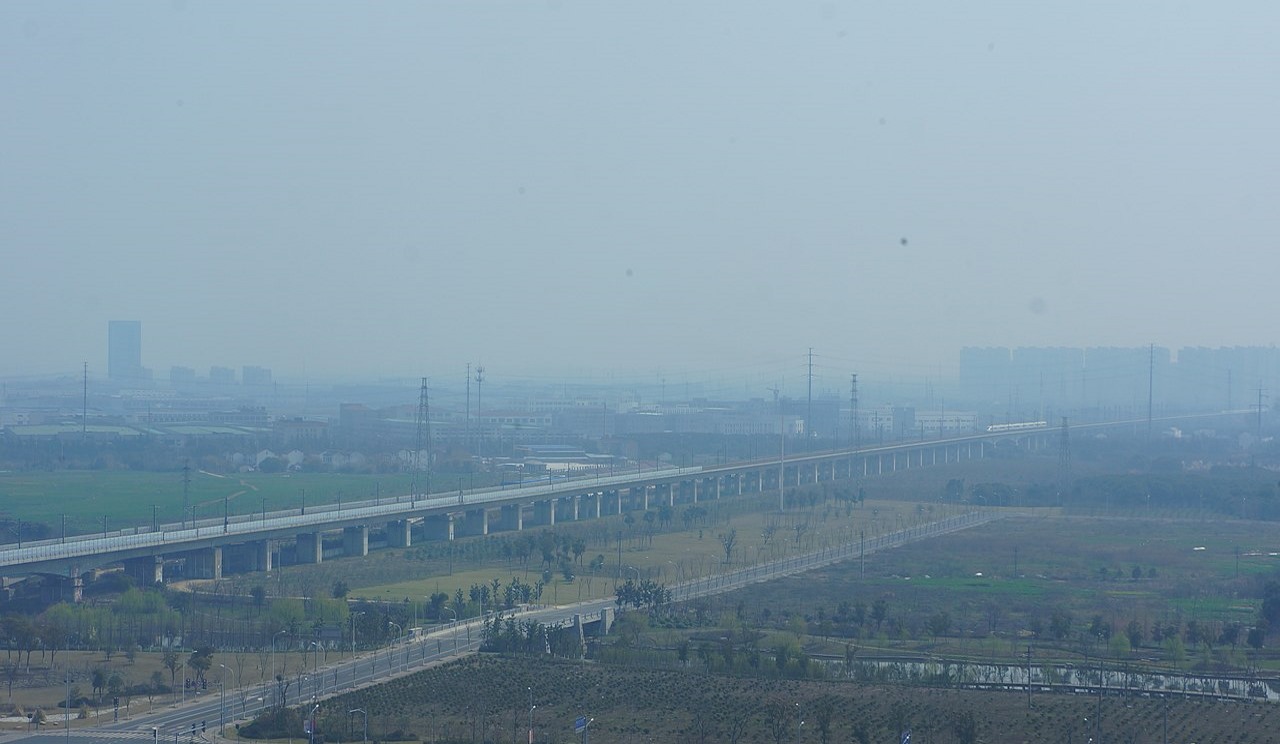 Danyang-Kunshan Grand Bridge, China.    (Pic Credits: commons.wikimedia.org)
The Danyang–Kunshan Grand Bridge is a 164.8-kilometre long viaduct on the Beijing–Shanghai High-Speed Railway. The bridge is located on the rail line between Shanghai and Nanjing and roughly runs parallel to the Yangtze River, between 5 to 50 miles on the south of it. Its construction took four years, employing 10,000 people. Utilizing resources that reached the cost of $8.5 billion, it was opened in 2011. The Danyang–Kunshan Grand Bridge currently holds the Guinness World Record for the world's longest bridge in any category. This world record breaking bridge is also famous for its individual parts that are used by the people living in the populated areas that are covered by it. The Langfang–Qingxian viaduct is the rail transport segment which covers a distance of 114 km making it a second largest bridge in the world. A 9 kilometres section of the bridge that goes across open waters of Yangcheng Lake in Suzhou is built on top of 2000 pillars, steel cables and an impressive 450,000 tons of steel structure. It has been constructed so sturdy so it can withstand not only direct impacts from naval vessels weighing up to 300,000 tons but also natural disasters such as typhoons and magnitude 8 earthquakes.
George Washington Bridge, New York, USA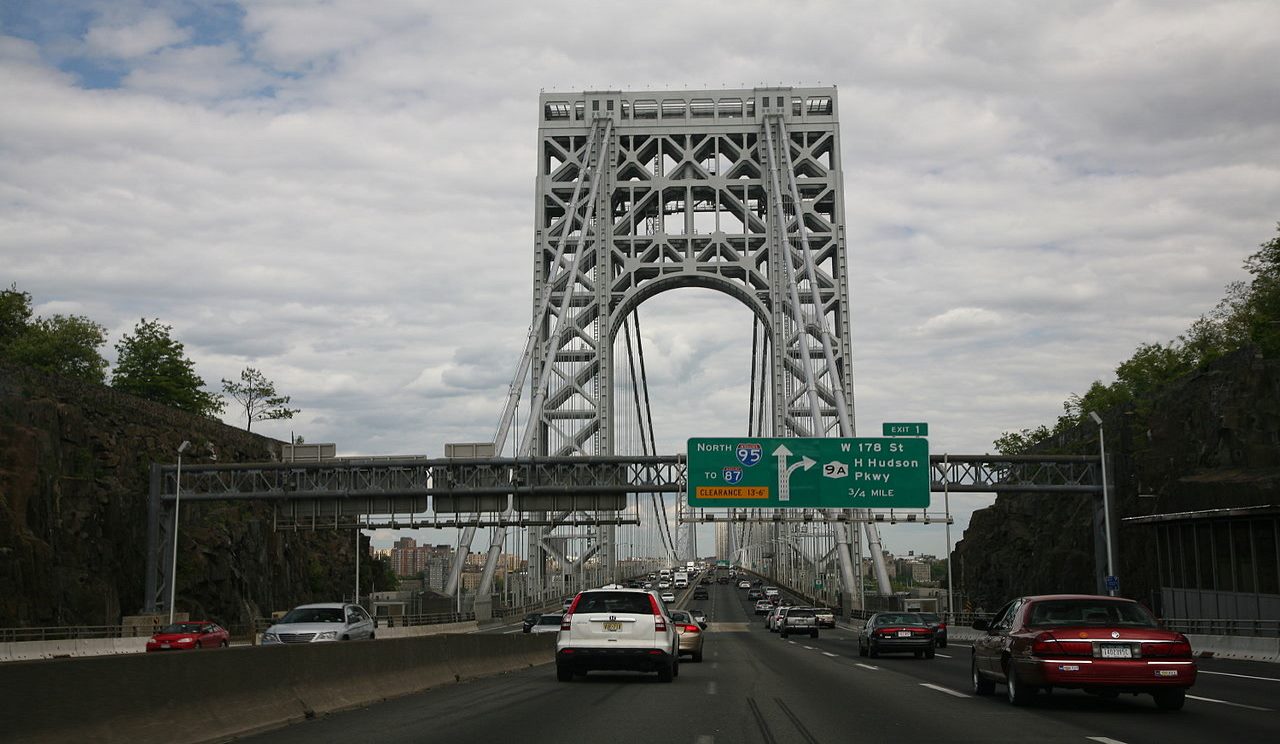 George Washington Bridge, New York, USA.    (Pic Credits: commons.wikimedia.org)
The George Washington Bridge is a double-decked suspension bridge spanning the Hudson River, connecting Manhattan and New Jersey. It is formerly called the Fort Lee Bridge or Hudson River Bridge. Informally it is known as the GW Bridge, the GWB, the GW, or the George. It has been known to be the world's busiest motor vehicle bridge carrying over 103 million vehicles per year. The current upper deck was originally built in 1927as six lanes and later widened to eight lanes in 1946. This level is very popular among sightseers and commuters travelling by foot, bicycle, or roller skates. With the massive increase in traffic flow, a six-lane lower deck was constructed beneath the existing span by 1962. On this level, vehicles carrying hazardous materials are prohibited due to its enclosed nature. Since 1947, the bridge has flown the world's largest free-flying American flag, measuring at 27 m long, 18 m wide, and weighing 200 kg. It is hoisted on special occasions like Martin Luther King, Jr. Day, President's Day, Memorial Day, Flag Day, Independence Day, Labor Day, Columbus Day, and Veterans Day. And since 2006, the flag is also flown on September 11 of each year, honouring those lost in the September 11 attacks. On events where the flag is flown, the tower lights are lit from dusk until 11:59 p.m. Visit this world record breaking bridge once in your lifetime.
Golden Gate Bridge, California, USA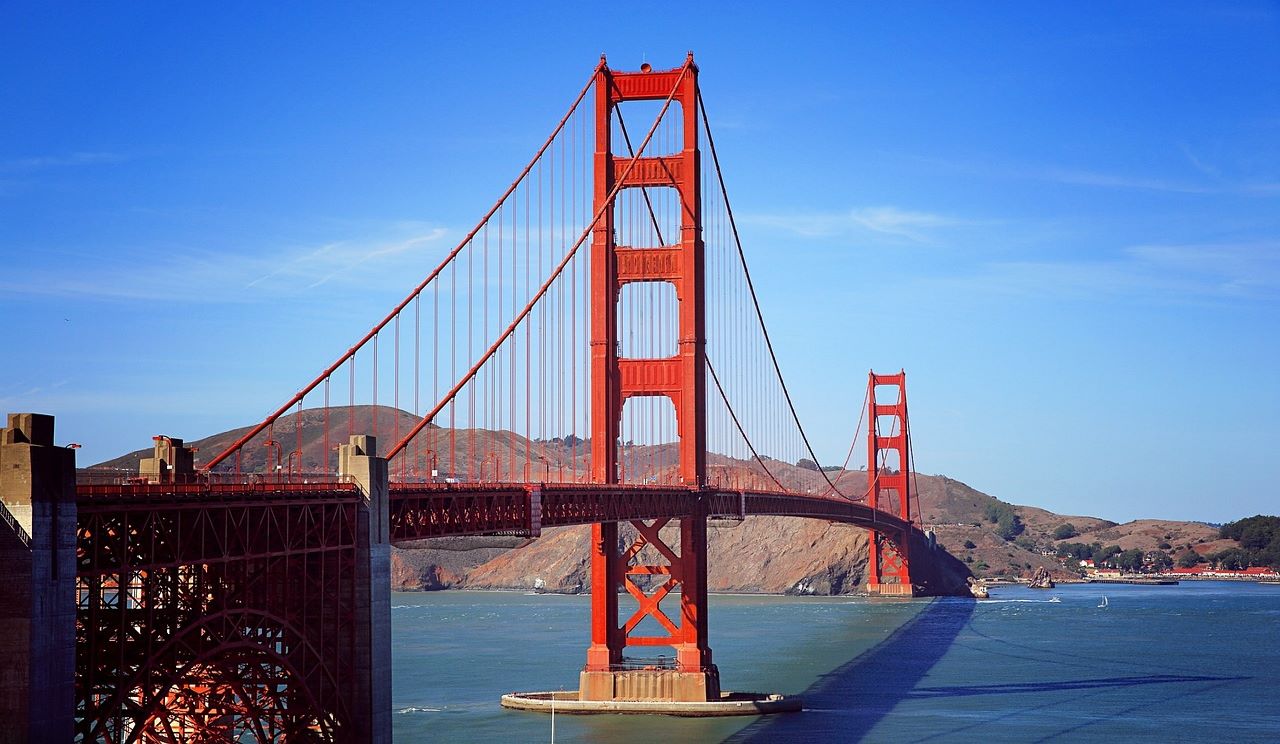 Golden Gate Bridge, California, USA.
The Golden Gate Bridge is a suspension bridge spanning the one-mile-wide Golden Gate Strait connecting San Francisco Bay and the Pacific Ocean. At the time of its opening in 1937, it was the longest (1,280 m) and the tallest (227 m) suspension bridge in the world. The bridge is one of the most internationally recognized symbols of San Francisco and the United States. It is also the most photographed bridge in the world. It is famous for its amazing view through the rising fog in the morning. The famous International Orange colour (a deeper shade of orange, with a more reddish tone) was originally used as a sealant for the bridge. This colour is used in the aerospace industry to set objects apart from their surroundings. The bridge's orange colour against the blue water and green hills at the background along with the white fog makes it a spectacular sight. As the Golden Gate Bridge stands out from its environment and is visible from long distances, it is used also for navigation purpose. Sadly, this world record breaking bridge also holds a world record for the most suicide jumps from any bridge in the world.
Hartland Covered Bridge, Canada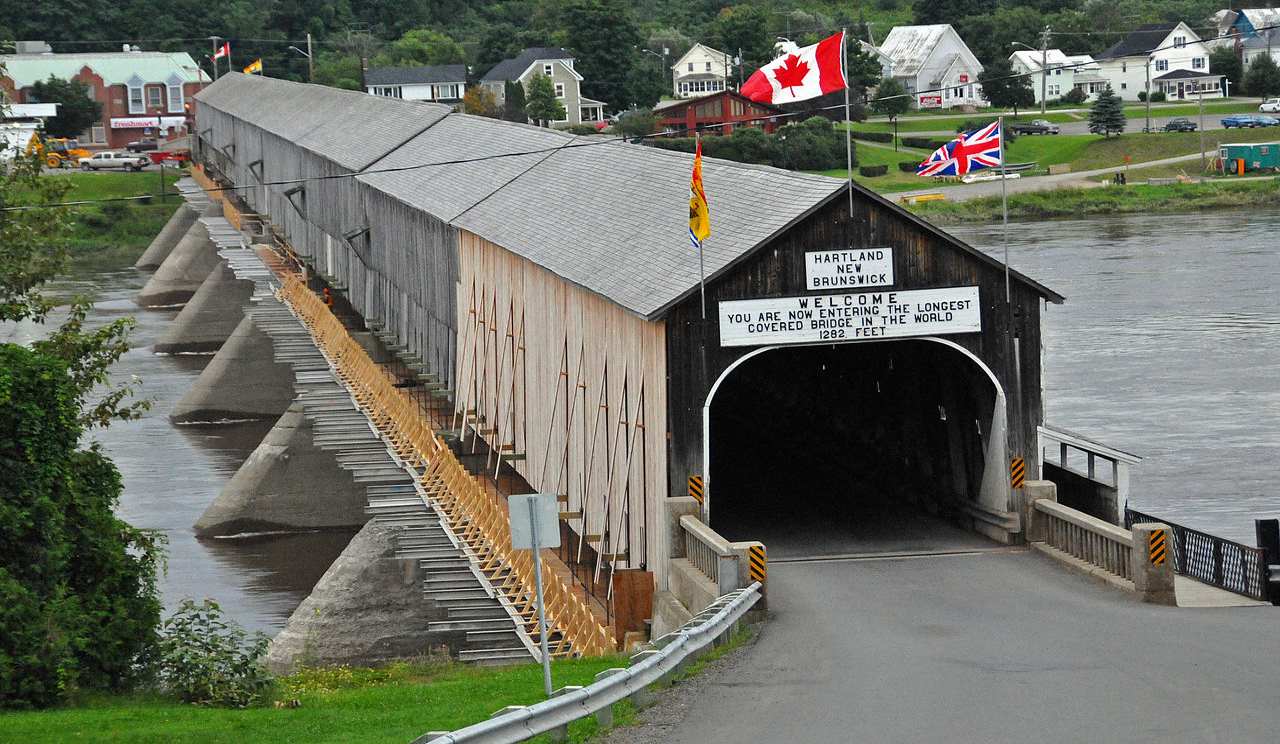 Hartland Covered Bridge, Canada.    (Pic Credits: commons.wikimedia.org)
The Hartland Bridge in New Brunswick is the world's longest covered bridge at 391 m long. It crosses the Saint John River from Hartland to Somerville, New Brunswick, Canada. During the first decade of the 19th century, North American builders used wooden trusses for long-span bridges and covered them to prevent the truss joints from rotting. The Hartland bridge framework consists of seven small Howe Truss bridges, a design wherein diagonal structural beams slope toward the bridge centre. These are joined together on six massive concrete piers and support a long, enclosed wooden bridge. The Hartland Covered Bridge like all covered bridges in New Brunswick is a 'kissing bridge'. Kissing bridges date back to the years of horse and wagon traffic. Young men would train their horses to stop about halfway across the bridge, wait while the couple shared a couple of kisses, and then continue to the other side of the bridge. The world record breaking bridge also gained popularity when the 1988 Winter Olympics Torch Relay made its way across this bridge. In 2006, the town of Hartland contributed a small piece of wood from the bridge to the Six String Nation project, which is a guitar named Voyageur, consisting of 64 pieces of bone, metal, wood, stone and horn and made as a symbol of national unity and to explore Canadian identity. In honour of its 111th anniversary, on July 4, 2012, the Hartland Covered Bridge was celebrated on Google's Canadian homepage with a Google Doodle. This world record breaking bridge will make it worth your visit. Are you inspired to see these or any of the other world record breaking bridges? Add them to your bucket list and plan your
vacations
with Travco Holidays now.
Book your flight tickets
to go and visit your favourite one.