Are you longing for fun-packed activities and adventure sports? Not to worry… Safe travel possibilities lie ahead in 2022, awaiting any adventure seekers. Whether it's on celebratory vacations, during long weekends, annual sabbaticals, or any other kind of holiday, one can always try to do something new and adventurous! If you're looking for a much-deserved vacation, don't miss out on any of the following best Indian Adventure destinations for 2022.
Andaman Islands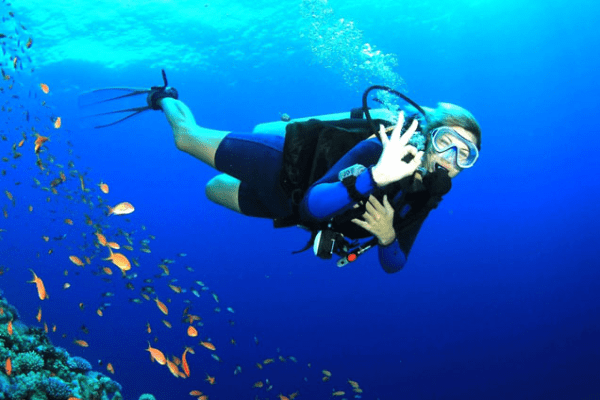 &nbsp&nbsp
The Andaman Islands are an archipelago of beautiful islands located in the Indian Ocean. It is one of the best water sports adventure destinations in India with its palm-lined coastline, white sand beaches and turquoise blue waters. The climate here is always warm but with sea-breezes, and rainfall is irregular.
Top Adventure Activities in Andaman Islands:
Bird watching at The Parrot Island near Baratang.
Seakarting from Corbyn's Cove Beach to Ross Island & back.
Game fishing at the South Andaman Islands.
Scuba diving among the coral reefs and underwater formations.
&nbsp&nbsp
Coorg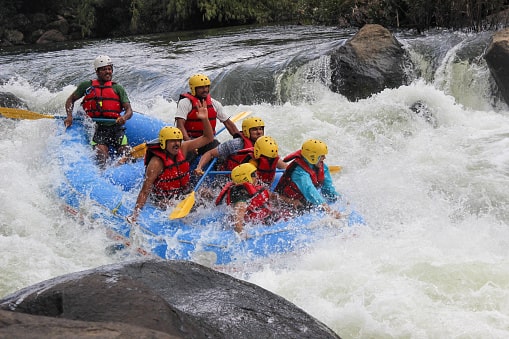 &nbsp&nbsp
Coorg is one of India's most famous coffee-producing hill stations. Located along the Western Ghats, Coorg offers a mix of luxury, adventure, history and mouth-watering cuisine. Coorg is known as 'The Scotland of India'. Locals celebrate many popular festivals, one of them being Huttari (the Harvest festival) during October or November. With jaw-dropping ravishing scenery, visitors will definitely enjoy their time at this adventure destination.
Top Adventure Activities in Coorg:
Mini Trekking at Chomakund.
Water rappelling at Nishani.
River rafting in Whimsical Barapole River.
Microlight Flying at Chelavara.
&nbsp&nbsp
Goa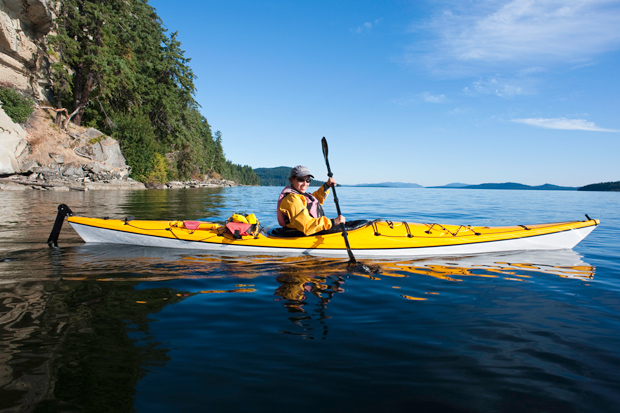 &nbsp&nbsp
The state of Goa is located within the Konkan region along the south-western coast of India. The cultural influence of the Portuguese can still be seen in the narrow lanes of Fontainhas, the Latin quarter of the capital–Panjim, and in the historic city of Margão. The port town of Vasco da Gama is the only Naval Aviation Museum in all of Asia. Though Goa is India's smallest state by area, it offers so many activities for adventure travelers. Each year, large numbers of international and domestic tourists visit Goa. It is world-famous for World Heritage-listed architecture, places of worship, active nightlife, and its white-sand beaches. Goa lies very close to the North-Western Ghats rainforests. It is one of the rare biodiversity hotspots of the world and this gives Goa its rich flora and fauna. Goa is definitely an ideal adventure destination for everyone.
Top Adventure Activities in Goa:
Trek to the rock art engravings in Usgalimal.
Kayaking along the Dona Paula cove.
Bird watching at Dr. Salim Ali Bird Sanctuary, Chorao Island.
Winch boat parasailing at Mobor Beach.
Snorkeling at Grande Island & Bat Island.
&nbsp&nbsp
Gujarat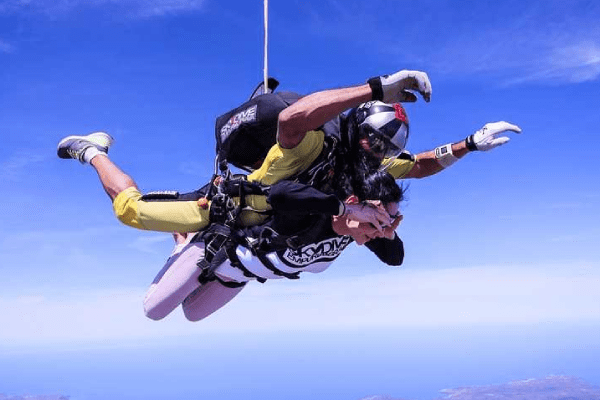 &nbsp&nbsp
Located on the western coast of India, the State of Gujarat has a coastline of 1,600 km. What makes Gujarat one of the best Indian adventure destinations is that it not only has a great heritage but a lot of adventure offerings too. Lothal, an ancient Indus Valley Civilisation site is believed to be one of the world's first seaports or dry docks. Tourists can visit the archaeological site and museums there. The world-famous ecoregion – Gir Forest, National Park, and Wildlife Sanctuary is also located in Gujarat. It is home to the only known wild population of the Asiatic lion in the world.
Top Adventure Activities in Gujarat:
Zorbing – a recreational and energizing activity.
Skydiving at the lakeside city of Deesa.
Rock climbing at the town of Idar.
River rafting in the River Narmada.
&nbsp&nbsp
Gulmarg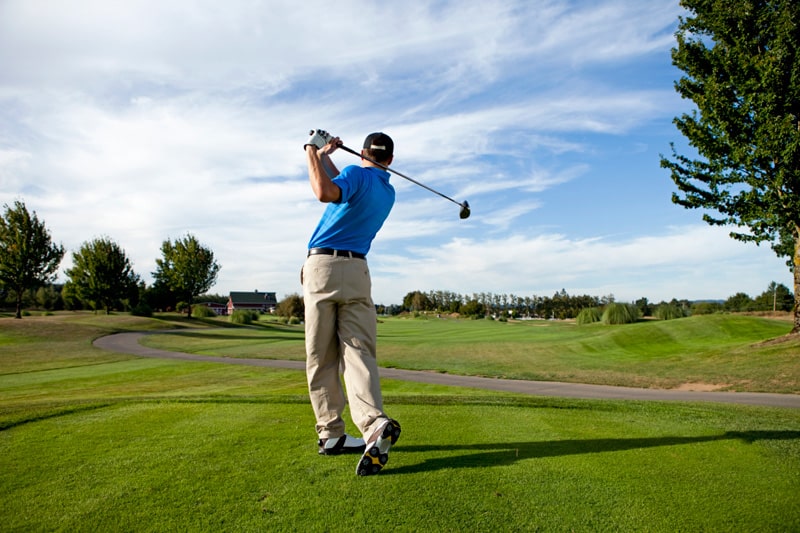 &nbsp&nbsp
Gulmarg interpreted as 'meadow of flowers', is a town and hill station in Kashmir. It is located 49 km from Srinagar, in a cup-shaped valley in the Pir Panjal Range of the Himalayas. From Apharwat peak and Khilanmarg, visitors get panoramic views of Nanga Parbat and Harmukh mountains. Gulmarg has natural meadows which are covered with snow in winter. During spring and summer, wild flowers grow in abundance here. The meadows are surrounded by green pine and fir forests and interspersed by parks and small lakes. Gulmarg is a winter sports adventure destination, the most popular being skiing.
Top Adventure Activities in Gulmarg:
Golfing at Gulmarg Golf Club, the world's 2nd highest golf course.
Gondola ride at Kongdori, the 2nd highest cable-car line in the world.
Bird watching tour in the Gulmarg Biosphere Reserve.
Horse riding and Mountain biking at Khilanmarg.
&nbsp&nbsp
Jaipur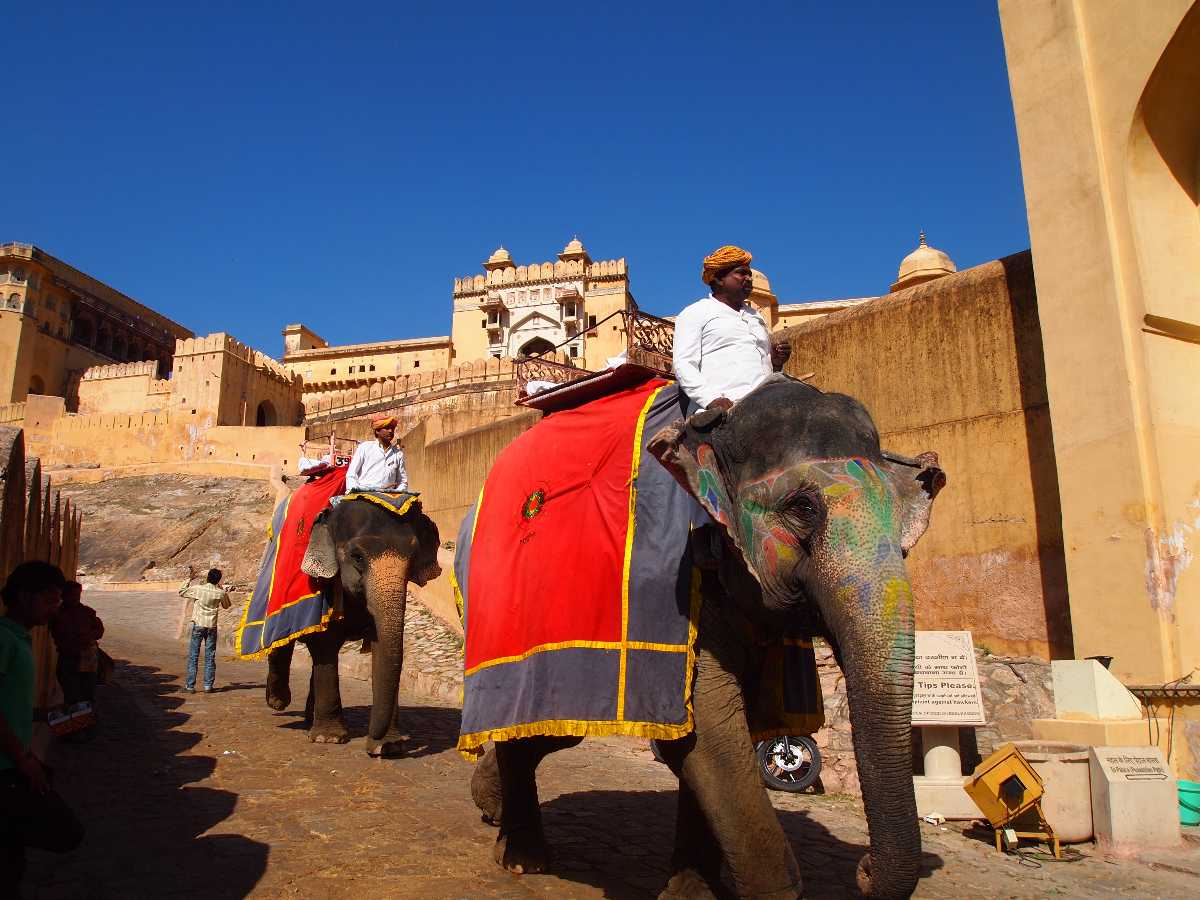 &nbsp&nbsp
Jaipur is a popular tourist and adventure destination in India. Along with Delhi and Agra, it forms a part of the Golden Triangle tourist circuit. The UNESCO World Heritage Committee inscribed Jaipur among its World Heritage Sites in 2019. Jaipur is famous for the dominant color scheme of the buildings, which gives the city its nickname – the Pink City. One of Jaipur's major tourist attractions is Hawa Mahal. It is a pyramidal-shaped five-story monument with 953 windows.
Top Adventure Activities in Jaipur:
Cycling expedition at the Grand Nahargarh Fort.
Elephant ride in Amer Fort.
Village Safari Tours in Dausa.
Camel Safaris at various resorts.
Hot-Air Balloon Ride at Kukas.
&nbsp&nbsp
Jaisalmer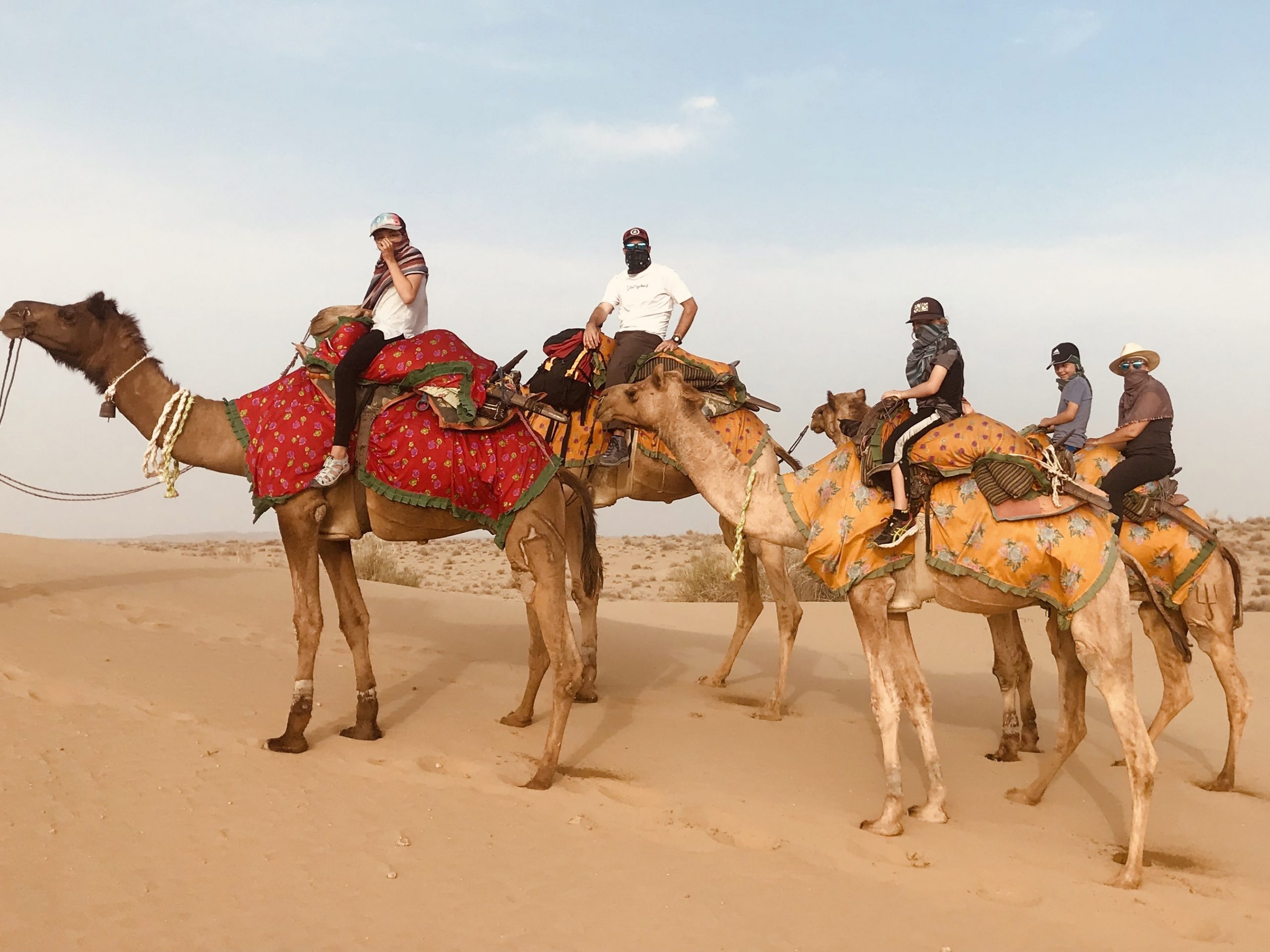 &nbsp&nbsp
Jaisalmer lies in the heart of Rajasthan's Thar Desert and is 575 km west of Jaipur. The town stands on a ridge of yellowish sandstone which is used throughout the architecture of the town and the ancient Jaisalmer Fort. This imbues both with a golden-yellow light and gives the city it's nickname 'The Golden City'. The most awaited event of Rajasthan is the colorful Desert Festival of Jaisalmer. Held annually in the month of February, this cultural extravaganza showcases Rajasthani folk music and dance. Besides this, there are plenty of activities in Sam and Sand Dunes to give visitors an adrenaline rush. They make Jaisalmer an excellent adventure destination.
Top Adventure Activities in Jaisalmer:
Go dune bashing.
Get a bird's eye view by taking a paramotor ride.
Take a one-day camel safari.
Have an unforgettable experience desert camping in Jaisalmer.
&nbsp&nbsp
Meghalaya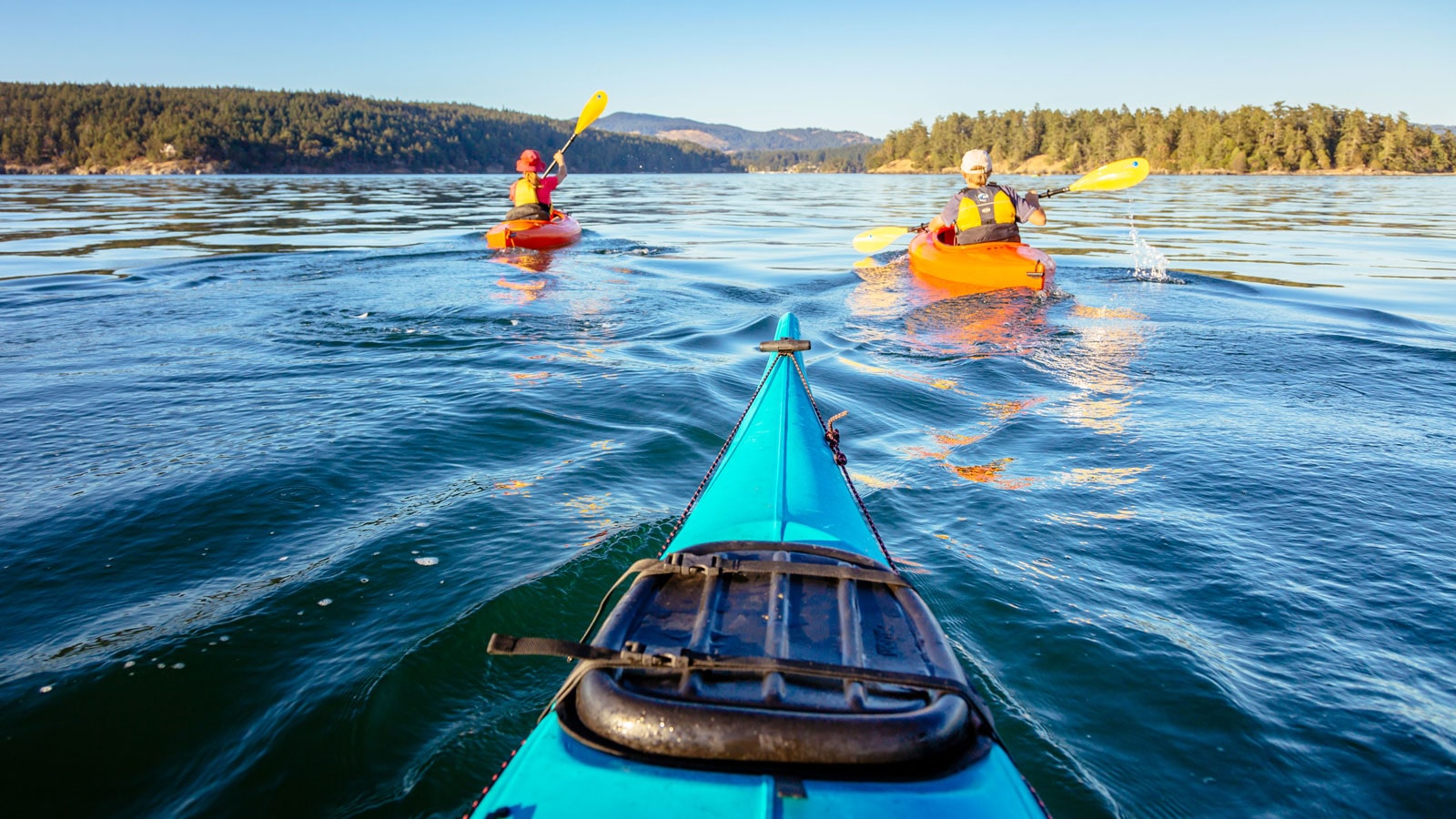 &nbsp&nbsp
Meghalaya means 'abode of clouds in Sanskrit. Meghalaya is one of the Seven Sister States of northeast India and the wettest place on Earth. Meghalaya is blessed with natural landscapes – mountains, forests, stretches of the valley, and highland plateaus. These areas are well known for the variety of natural resources and the biodiversity of mammals, birds, and plants. Meghalaya is also home to over 250 species of butterflies. For travelers looking for an adventure destination, Meghalaya has a lot to offer in terms of adventure sports.
Top Adventure Activities in Meghalaya:
River canoeing in Sohra.
Kayaking and Rafting at Shillong Whitewater Village.
Trek on a double-decker living root bridge in Cherrapunji.
Caving at Krem Puri, the longest sandstone cave in the world.
&nbsp&nbsp
Ramnagar
&nbsp&nbsp
Ramnagar is a town in the Nainital district of Kumaon, Uttrakhand. It is located on the embankment of the River Kosi, at the foothills of the Himalayas. Ramnagar is a gateway to the first national park in India – Corbett National Park. Besides this famous tourist destination, Sitabani temple and Garjiya Devi Temple situated nearby attract many tourists. Ramnagar definitely belongs in the list of India's most exciting adventure destinations.
Top Adventure Activities in Ramnagar:
Watching migratory birds at the Kosi Barrage.
Take a wildlife safari by jeep, elephant, or horse.
Go wall climbing and wall rappelling.
Try zip lining, cross a suspended Burma bridge, a plank or zig-zag bridge.
&nbsp&nbsp
Satpura Range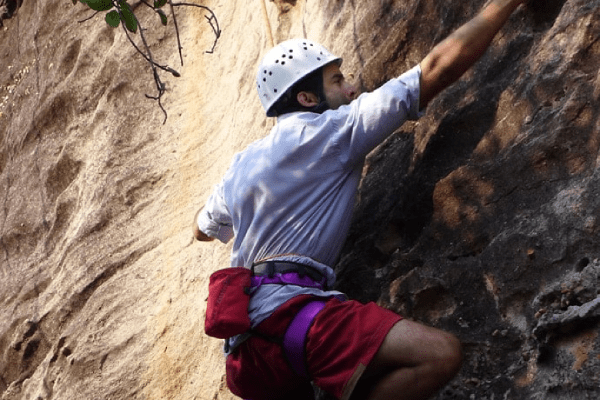 &nbsp&nbsp
The Satpura Range in Central India, is a range of hills rising in eastern Gujarat. The range runs east through Maharashtra and Madhya Pradesh's border, ending in Chhattisgarh. The range along with the Bori range and the Pachmarhi range is part of the UNESCO-listed Satpura Biosphere Reserve. Here, travelers can experience the best of nature. With mountains, waterfalls, and the right balance between popular and unexplored places, the Satpura Range is an excellent adventure destination.
Top Adventure Activities in Satpura:
Camping and walking Safari at Satpura Jungle Camp.
Rock Climbing at Pachmarhi.
Cycling Tours through the forests and hills.
Backwater cruises on Tawa River.
&nbsp&nbsp
Follow Covid-19 Travel Guidelines
Before traveling, check your destination's COVID-19 situation. Ensure you are up to date with your COVID-19 vaccines. Get tested both before, during and after your trip. Follow any health and safety guidelines state, tribal, local, and territorial governments may have in place.
&nbsp&nbsp
Plan Your Adventure Trip
Travco Holidays Pvt Ltd can help you plan a safe and perfectly adventurous trip to an adventure destination of your choice. Our team of dedicated travel consultants is ready to serve customers with the best possible travel-related services. We will assist you through the entire travel process, ensuring exclusive attention, smooth service, and satisfactory delivery. From Visa Assistance, Portuguese passport, and Indian passport services and holidays worldwide, we provide a full range of services. Travco Holidays Pvt Ltd is your one stop solution provider for any Travel & Tourism related services in India and around the world. Get in touch with us at +91-9860090341 for all your travel requirements.